National Police Week holds significant importance in recognizing and appreciating the tireless efforts of law enforcement officers who risk their lives every day to ensure public safety. This week-long commemoration, which takes place annually in May, serves as a tribute to the brave men and women who selflessly protect and serve our communities.
Originating from the efforts of several organizations and individuals who sought to honor law enforcement officers and pay tribute to their sacrifices, National Police Week was created. In 1962, President John F. Kennedy signed a proclamation designating May 15th as Peace Officers Memorial Day and the week surrounding it as National Police Week. This proclamation was a tribute to law enforcement officers who had lost their lives in the line of duty.
The significance of the week lies in its ability to bring the nation together to acknowledge the dedication, bravery, and sacrifice of police officers. It serves as a reminder of the risks law enforcement officers face daily while protecting communities from crime and ensuring public safety. The week-long event includes various activities such as memorial services, candlelight vigils, parades, and the National Peace Officers' Memorial Service held in Washington, D.C.
NextNav's commitment to creating safer communities through technology aligns with the core values celebrated during National Police Week. NextNav's Pinnacle technology offers precise "floor-level" vertical location information, which is particularly valuable in urban environments where it is otherwise extremely challenging to know exactly where within a building an emergency caller – or first responder in distress – might be. This capability ensures that emergency services can accurately locate individuals in high-rise buildings or other complex structures, thereby reducing response times and ultimately saving lives.
NextNav's dedication to public safety extends beyond our core technology. We actively collaborate with public safety organizations, law enforcement agencies, and emergency management teams to develop and deploy innovative solutions that enhance situational awareness and response capabilities. Listening to their needs, we work to improve upon our technologies and launch new ones – including visualization tools. And, we recently awarded the NextNav Future of Public Safety Scholarship to a young high school graduate who plans on a career in public safety.
While events for National Police Week have already begun, we encourage you to check out events in your area over the next week, or consider lighting a "virtual candle" to pay tribute to a law enforcement officer.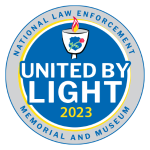 From the NextNav team, we thank all law enforcement professionals and look forward to celebrating this national week of recognition!